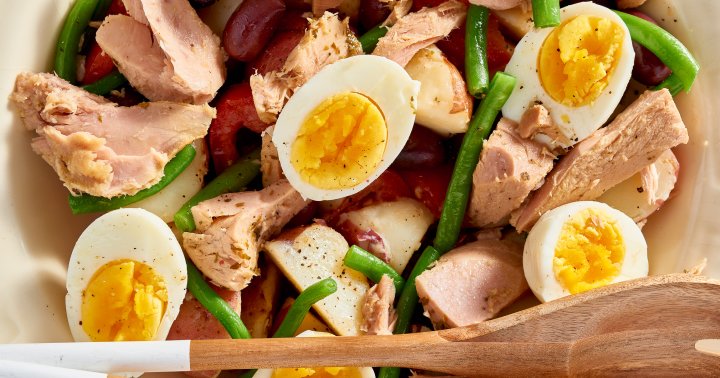 Beyond Hyman's favorite brand, there are some guidelines for shopping for tinned fish you should keep in mind. For tuna (likely the form of this product that's more familiar to people), registered dietitian Erica Fand, M.S., R.D says the question of water- or oil-packed comes down to preference
"If you do choose tuna packed in oil," she told mindbodygreen, "try to opt for tuna canned in olive oil." She also recommends picking "low sodium" or "no-salt" products where possible.
But of course, canned tuna is still not the most sustainable option: it's those smaller species that have the benefit of being more sustainable. Because they're smaller, they tend to be more abundant—but you can get up to date information on which species are more (or less) at risk through groups like the Monterey Bay Aquarium's Seafood Watch.
Another great sustainability buzzword to keep in mind is line-caught: "Catching fish using a line leads to less bycatch (fish that are caught accidentally and left to die) than net fishing does," explains Emma Loewe, mbg's senior sustainability editor, "Some canned fish brands championing line-catching include the aforementioned Patagonia Provisions, Wild Planet, Bar Harbor, and Safe Catch."
Luckily, both of Fand's healthy suggestions work with smaller species too: when shopping, you should keep in mind that the best options will be packed in healthy oils. Same again, you probably don't need added salt in the product—especially with those smaller fish, which naturally are quite salty on their own.
Source link

#Sustainable #Seafood #Year #Tinned