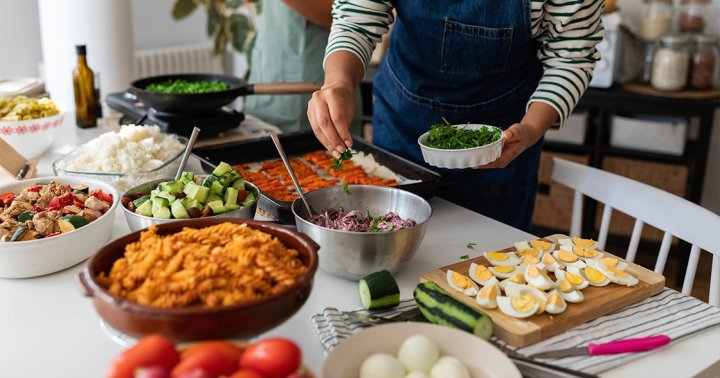 Sunbasket is a certified organic company that uses organic produce, milk, yogurt, eggs, and tofu 99% of the time. All meats and seafood are antibiotic- and hormone-free, and you can choose organic, free-range, and pasture-raised meats and poultry. Transparency is important, too; if Sunbasket ever has to use a non-organic ingredient, the company will give you a heads up before making the swap.
These high-quality ingredients are the foundation for Sunbasket's weekly menu, which features around 20 meal kit options every week. When you sign up, you can select from 10 menu filters, such as paleo, vegetarian, carb-conscious, gluten-free, Mediterranean, and diabetes-friendly. If your dietary needs ever evolve, you can simply adjust the filters to suit your preferences before placing the next order.
While the pre-made meals are perfectly portioned for one, you can choose 2- or 4- person meal kits with up to five dinners per week (aka enough for leftovers).
Example Meal:
–Mediterranean turkey meatballs with chard and red pepper-cashew crema
-Roast chicken with harissa-spiced veggies, cauli mash, and almonds
Sustainability & Quality: All of Sunbasket's packaging is reusable, recyclable, and/or compostable (and much of that packaging is made from recycled materials to begin with). It also has high animal welfare standards and works closely with suppliers—ranchers, farmers, and fisherman—to ensure these standards are always met.
Source link

#Absolute #Organic #Meal #Delivery #Services