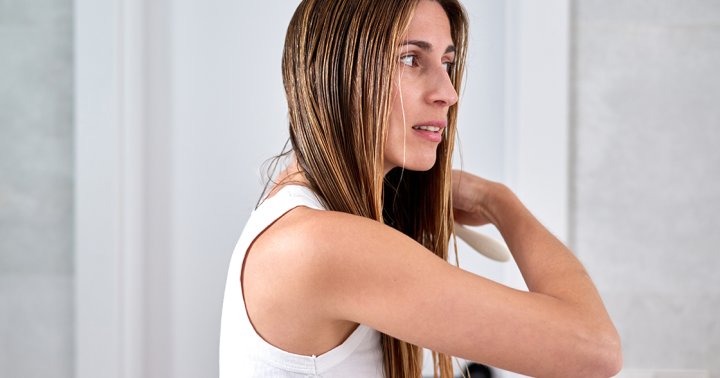 mbg Beauty Director
By Alexandra Engler
mbg Beauty Director
Alexandra Engler is the Beauty Director. Previously she worked at Harper's Bazaar, Marie Claire, SELF, and Cosmopolitan; her byline has appeared in Esquire, Sports Illustrated, and Allure.com.
Image by Guille Faingold / Stocksy
June 30, 2022
At some point or another, most of us consider "hair growth" a top priority. Whether it's because you're growing out a short cut, noticing your part or hairline is a bit more sparse than it normally is, experiencing increased shedding, or just wanting fuller locks—healthy hair growth is a worthy beauty endeavor. 
Now, whenever we talk about hair growth and loss, I always like to caveat that if it's a serious concern for you: Don't hesitate to visit a beauty or health professional. They'll be better equipped to help you understand your needs and next steps. But if it's simply fuller, healthier, or longer hair you're after, you've come to the right place. 
Here, we've rounded up the products—from serums and shampoos to supplements and tools—to help you achieve your goals. 
What are hair growth products? 
It may seem straightforward, but "hair growth products" is actually a broad category. Not only do many different types of formats exist, but hair growth itself can mean several different things depending on who you ask. For some, it may mean they want their hair to grow fast. For others, it means they're after fuller-looking hair. And for those dealing with hair shedding, it means products that can help promote regular, consistent growth.
So that's why on the list below you'll see scalp-centered products that deep clean the follicle, as well as creams that hydrate and strengthen the hair fiber: Both elements are critical for healthy hair. 
Additionally, there are many potential causes of hair shedding (we go over it later). So in order to see real results, it takes a holistic approach that will incorporate lifestyle, nutrition, hair care, and habits. While the below products are effective for many folks, there's no one miracle elixir that will grant you full growth. I say this not to discourage you or discount these smart formulas but to set expectations that for healthy hair growth there's much to consider. And in order to find your most effective routine, it may take some trial and error. 
But many people (myself included!) have achieved fuller-looking hair by being diligent and sticking with it. You can too.  
How we picked
There are a lot of ways to support your healthy hair growth, from serums to supplements. We included a wide variety so you can find options that fit into your routine.
Each innovative formula is intelligently designed for its specific use case and purpose.  
We looked for ingredients that could support your scalp and fiber to improve the health of your hair.
The products on this list have either been tested by the mbg team, recommended from professionals, or come with rave reviews from real users.
Best hair growth products.
Pros
A formula designed for you by professionals
Powerful botanicals
Cons
Requires dedication due to the application method
Not vegan
Considerations: Scalp-focused
Developed by a world-renowned hair thinning expert, researcher, and product formulator Lars Skjoth, Ph.D., this targeted and personalized scalp elixir is astonishingly effective. (Skjoth started several internationally renowned hair loss clinics and is considered to be the best of the best in noninvasive hair growth protocols.) In it, the brand infuses their proprietary ingredients derived from burdock root, marigold, apple, sandalwood, and naturally occurring sterols, tannins, and fatty acids found in botanicals. It comes highly recommended by top beauty experts (including several world-class celebrity stylists); additionally, I used it several years ago during a time of dramatic hair shedding—it's the only thing that brought back some fullness to my hair. You can visit one of the brand's clinics or do a virtual consultation to start the process to get your very own bottle. Just be prepared that this is an intense step to add to a hair routine, due to the rigorous instructions and daily use. However, if you're serious about hair growth, this is the ultimate method. I have never spoken to a single person who has used this product and not remarked on its incredible performance.
Pros
Simple formula
Smells amazing
Cons
Uses essential oils, if you're sensitive to them
Pricey
Considerations: Vegan, Cruelty-free, Hair fiber fortifying, Scalp-focused, Hydrating
This three-ingredient formula is simple but luxurious. The base is a sunflower oil, which can condition the scalp and strand by providing fatty acids and antioxidants. (Bonus, it also makes the hair shine oh-so-bright.) The jasmine essential oil nurtures the hair follicle and even has some antimicrobial properties. And the amla extract is rich in antioxidants, including vitamin C, to combat oxidative stress. While this won't stimulate growth at the root, it will provide favorable conditions for lush hair growth—while minimizing breakage on the hair you do have. A tip from the brand: In the evening apply it to the scalp, gently working your way to the roots, then leave it on overnight for a deep condition. 
Best budget: The INKEY List Caffeine Stimulating Scalp Treatment
The INKEY List Caffeine Stimulating Scalp Treatment
Pros
Budget-friendly
Science-backed
Cons
Reports of leaving a white residue
Takes a while to see results
Considerations: Vegan, Cruelty-free, Scalp-focused
This brand has made a name for itself by crafting simple formulas, at effective doses, with clean ingredients—all at a very reasonable price. Take this $15 scalp treatment, which bends together caffeine powder, betaine, and Redensyl, a hair growth activator. Let's start with the last one: In clinicals, the ingredient is shown to promote hair growth within three months. But that's not the only active ingredient working hard for your hair: According to a report in the International Journal of Trichology, caffeine has the ability to stimulate the scalp and provides antioxidant properties, which can help with hair shedding. 
Pros
Science-backed
Innovative ingredients
Considerations: Vegan, Cruelty-free, Scalp-focused, Gluten-free
Whatever part of the skin this brand touches turns to gold—oh yes, scalp included. The star of the show is the brand's proprietary TFC8, an innovative technology that creates the optimal environment for renewal and better delivers the other actives in the formula. While the TFC8 is used across the board in their products, as for the scalp-specific ones this contains the amino acid L-arginine and a mineral complex. Together, they reduce shedding, soothe the skin, and help anchor the hair in the follicle.
Pros
8 ingredients that can support whole body health: hair, skin, nails, joints, the gut & more
Considerations: Inside-out support, Gluten-free, Soy-free, Dairy-free, Sugar-free, GMO-free, Keto-friendly, Major allergen-free
A little hair fiber lesson: Hair is primarily made of the protein keratin, which is made up of amino acids (the building blocks of all protein). Collagen supplements contain amino acids, which can be used in the body to support a wide range of uses—like stimulating collagen production to hair support. In addition to those collagen peptides, this contains several other beauty-boosting ingredients, like biotin, hyaluronic acid, L-glutamine, and curcumin from turmeric extract and sulforaphane from broccoli seed extract. I'd also like to highlight vitamin C and E, which can act as antioxidants and neutralize free radicals and oxidative stress (which can trigger hair shedding). For more information on hair supplements, check out our guide. 
Cons
May take a while to see results
Pricey
Considerations: Vegan, Cruelty-free, Scalp-focused, Hydrating, Gluten-free
Want a scalp oil but hate how goopy and flat it makes your roots? A scalp serum might be a better fit for you. This lightweight number has a very quick dry-down time and leaves minimal residue, meaning it won't get in the way of your overall style. This uses an upcycled extract from the ashwagandha that the brand uses in their nutraceuticals (yes, it's the same brand as the hair supplements), which is better suited for topical applications. The extract contains lipids and proteins that can improve the appearance of fuller, stronger hair. It's further supported by green tea and moringa extracts for antioxidants. 
Pros
Science-backed
Instant gratification
Cons
Uses silicones, if you're one to avoid those
Considerations: Vegan, Cruelty-free, Hair fiber fortifying, Scalp-focused, Hydrating, Gluten-free
Virtue is one of my all-time favorite hair care brands. The clean line uses a unique ingredient called Alpha Keratin 60ku CLINICAL® Protein that is almost bioidentical to the keratin that makes up your hair fibers. What does this mean in practice? It better latches on to the strand, filling in gaps due to breakage or wear—so the hair looks and feels renewed. In addition to this smart protein, this sulfate-free shampoo uses a signal peptide that encourages a robust environment for hair growth, hyaluronic acid for scalp hydration, and red algae extract to keep the hair soft. 
Pros
Doubles as a co-wash
Great for curls
Considerations: Vegan, Cruelty-free, Hair fiber fortifying, Hydrating
The star of the show is the castor oil, which has been used by various regions and cultures for ages due to its hair-strengthening properties. At this time there is no published data supporting its hair-lengthening benefits, but anecdotally it's long been used as a hair growth botanical. (Even if they haven't studied growth in particular, the oil has many other science-backed hair benefits.) This also blends together shea butter for hydration, apple cider vinegar for shine, and peppermint to stimulate the scalp. The result? A hydrating rinse-out conditioner that results in restored strands. A bonus: It makes for an amazing co-wash product too.   
Pros
All-natural
Simple formual
Considerations: Vegan, Cruelty-free, Hair fiber fortifying, Scalp-focused, Hydrating, Gluten-free
As far as botanical oils for hair health goes, we're obsessed with rosemary. (So are derms and hair experts, we might add—triple board-certified dermatologist Mamina Turegano, M.D., has previously raved about it.) The reason is that research has shown it's very effective for hair shedding. In fact, a 2015 randomized comparative trial found that rosemary essential oil was just as effective as minoxidil (the active ingredient in many commercial hair-growth products) for reversing hair loss caused by androgens—also known as male- or female-pattern baldness—after six months. This option uses organic, cold-pressed rosemary oil hand-picked from high altitudes in the Andean Mountains of Ecuador.
Pros
Rave reviews
Scalp feels so refreshed
Cons
A bit more time commitment
Considerations: Vegan, Cruelty-free, Scalp-focused, Detoxing, Gluten-free
A clear, refreshed scalp is the basis for healthy hair growth: New hair follicles can't form if there's gunk in the way or if the skin is irritated. That's why it's vital to have a quality product to deep clean the skin from time to time. This detoxing number has been one of the most recommended products to me for hair care—and one use will show you why. It's a pre-shampoo product that breaks down sebum, buildup, and dirt to help restore balance to the area. It's made with a host of good-for-hair ingredients like baobab, basil leaf, moringa, aloe, and calendula. Apply it on a dry scalp, massage it in thoroughly, let it sit for 20 minutes, wash as normal, and be amazed about how good your roots feel.
Pros
Hydrated, soft hair instantly
Cons
Some complain about the scent
Considerations: Vegan, Cruelty-free, Hair fiber fortifying, Hydrating, Gluten-free
Rice water rinses are an age-old beauty ritual that can strengthen the hair shaft. "Rice water is rich in starch, which forms the surface of the hair shaft. This adds strength, enhances hydration, and minimizes the appearance of split ends," board-certified dermatologist Joshua Zeichner, M.D., previously told us. "Rice water can also benefit the scalp itself, enhancing skin hydration." In this formula, they take the strengthening power of rice water protein and add B vitamins and an algae extract to boost shine, soften dry texture, and fight free radicals.
Pros
Has double-blind, in-vivo clinical studies
Cons
Contains essential oils, if you're sensitive to those
Considerations: Vegan, Cruelty-free, Scalp-focused, Hydrating
This uses a blend of phyto-actives that have clinicals to back their use as good-for-hair actives. Mung bean sprouts have a high concentration of zinc, silica, iron, and several vitamins. Curcumin is a notable antioxidant that has anti-inflammatory properties when applied topically, like in this formula. Red clover contains a very powerful flavonoid that is able to soothe irritated scalps. These botanicals are housed in a base formula that contains other smart actives like caffeine, peptides, and bergamot—the latter of which adds a delightful scent. 
Pros
A clean, simple formula using beloved hair-enhancing ingredients
Organic ingredients
Cons
May take a while to see optimal results
Considerations: Vegan, Cruelty-free, Hair fiber fortifying, Scalp-focused, Hydrating
This ayurvedic oil has all the heavy hitters: Rosemary stimulates the scalp and has studies showing it's an effective botanical for hair fullness. Peppermint invigorates the hair follicle—and has some promising data to support growth results; however, more research is needed in human tests. And finally, bhringraj, amla, and nettle condition the skin and hair while adding major antioxidant support. The formula has been used in ayurvedic traditions to help ease hair shedding—and this particular product is beloved by users for its efficacy. 
Pros
Improves shampoo's efficacy
Cons
Can just use your fingers
Considerations: Vegan, Cruelty-free, Scalp-focused, Detoxing
Hair massages remain one of the most effective tools you can have in your hair growth arsenal. In fact, in a 2016 study, a small number of men received a daily four-minute scalp massage. At the conclusion of the study, the investigators found an increase in hair thickness. A more recent 2019 study found that of the 300 or so participants who followed a specific massage regimen, nearly 70% reported improved hair thickness at the end. This takes it to the next level and makes giving yourself a daily massage oh-so-delightful (self-care should never feel like a chore). Additionally, it can lift up sebum and buildup that accumulates between washes.
Pros
The set works together to improve each step's overall efficacy
Considerations: Hair fiber fortifying, Scalp-focused, Hydrating
While the individualized treatment is what made Harklinikken world-class, you can still get the products without signing on for the personalized protocol. This three-part kit includes a shampoo, conditioner, and leave-in hydrating cream that are infused with the same invigorating ingredients, just not specially crafted for you. Even though I no longer stick to the customized routine, I'll treat myself to this set regularly to boost my hair fullness.  
Causes of hair loss.
There are many, many contributing factors to hair loss and thinning—and there's also much we don't know about it and are still learning. So if you're experiencing any sort of hair loss, it may feel daunting to try to get to the bottom of it. Professionals can help, so we always encourage you to visit a dermatologist, stylist, or trichologist if you feel you need it. But for a place to start, these are the most common influencing factors: 
Age. Hair growth slows with age until, at some point, some hair follicles stop growing hair altogether. Aging of the hair also affects its color and density (that is, hair turns gray and becomes thinner). According to research, the age at which our hair follicles start to slow production is different for every individual.
Genetics. If you have a family history of hair loss, you're more likely to experience it and in similar patterns. 
Nutritional deficiencies. According to the American Academy of Dermatology Association (AAD), low levels of certain nutrients—like biotin or zinc—can lead to significant hair thinning. (Biotin deficiency is rare in the U.S. population; overt zinc deficiency is also rare in the adult U.S. population, although the potential zinc gap from our diet isn't anything to gloss over.) For more information on deficiencies and hair shedding, check out our guide to hair vitamins. 
Stress. Even normal, everyday stress can push your hair to shed more than is typical. Stress triggers a spike in hormones, neurotransmitters, and cytokines, which pushes hair follicles into the telogen phase of the hair growth cycle. 
Hormones. Hormones play a huge role in beauty—from influencing collagen production to triggering blemishes and, yes, hair loss. One of the main hormones that influences hair is cortisol (the stress hormone, see above), but thyroid and sex hormones also influence hair growth. For example, estrogen is connected to keratin production—this is why pregnant people may experience thicker hair, which sheds shortly after birth. 
Styling & care influences. Product buildup on the scalp, tension due to tight styles, and breakage of the hair fiber will all get in the way of dense, lush hair. 
Tension. Did you know that you can hold tension in your scalp? Well, you can—and it may be contributing to hair woes. "Beautiful, strong hair depends on good blood circulation, proper nutrition, and a healthy and supple scalp," says board-certified dermatologist Raechele Cochran Gathers, M.D., who specializes in hair care and founded MDHairMixtress. 
Environmental stressors. Environmental stressors can lead to oxidative stress, which can cause shedding. According to one study done on human hair cells, exposure to common air pollutants (such as car and diesel exhaust)directly decreased the protein in our follicles that is responsible for hair growth. 
Again, there may be other health factors that are influencing your hair growth and loss, so please consult a health professional about your situation. 
mbg's review process.
At mbg, high standards are earned—and there are no shortcuts. Our beauty editors stay up to date on the latest ingredient research and innovation. It's a dynamic, continuously evolving space, and it's important we look into the science so we can make informed choices about which formulas earn our stamp of approval (figuratively speaking).
Our high standards also come from testing products—many, many products. Our editors and writers rigorously test and research the products featured in our roundups to offer you the best, most informed recommendations. When we write reviews, you can trust we spend quality time with the formulas: We don't simply rave about products we've slathered on the back of our hand. We endorse products we've tried and loved. 
Learn more about our testing process and clean beauty standards here. 
The takeaway.
Don't worry: Healthy hair growth is possible, even if there are days when you feel like nothing can help. There are a plethora of products out there that can care for the scalp, nurture the fiber, and support your hair follicles from the inside out.* Want more hair growth tips? Check out our guide to fuller-looking hair.
If you are pregnant, breastfeeding, or taking medications, consult with your doctor before starting a supplement routine. It is always optimal to consult with a health care provider when considering what supplements are right for you.


Source link

#Hair #Growth #Products