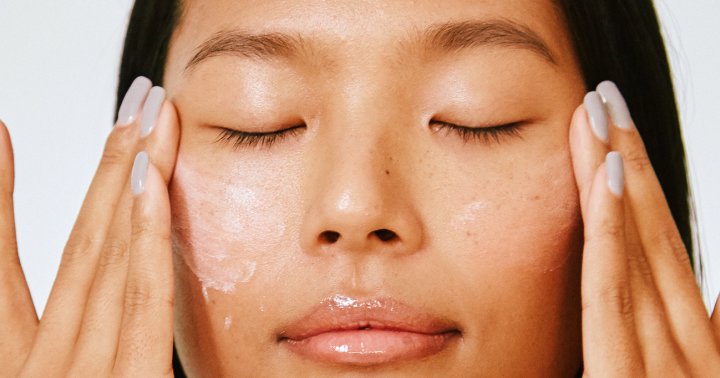 Short answer? There isn't one. Ultimately, you should do whatever feels good for you in the moment: "It's more important that you are consistent and enjoy your skincare routine," notes esthetician Tami Blake, founder of Free + True. Whether you enjoy pressing in products or would rather revel in a light massage, well, that's totally up to you. 
Blake personally prefers spreading products with light pressure for stimulating circulation and increased absorption into the skin (since you're literally working them in with your hands). Hot tip: She also sprays on a hydrating toner while layering her serums and moisturizers, as the mist not only further enhances absorption but also provides enough slip that you're not tugging at the skin.
Joanna Vargas, celebrity facialist and founder of Joanna Vargas Salons and Skin Care casts her vote for gentle massage as well: "I'm not a pat-product-in person," she says. Rather, "I prefer teaching clients to use upward hand-over-hand strokes to apply product, because it's good for circulation and the lymphatic system." Especially if you're in the market for a more immediate glow (you've got places to be!), the uptick in blood flow can offer a lit-from-within radiance. Again, you should always keep the pressure featherlight; you never want to rub too vigorously and cause inflammation. 
Source link

#Rubbing #Pressing #Skin #Care #Products #Experts #Weigh