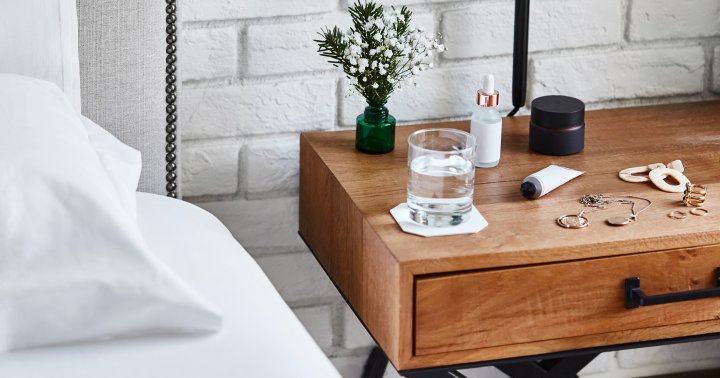 Cradle yourself with this soft blend of lavender, sandalwood, roman chamomile, and linden blossom essential oils. These ingredients were specifically selected for their research-backed relaxing abilities and soft, pleasing scents. While this is not a sleep aid or treatment, it can be used as part of your nighttime routine to create an atmosphere that will lull your senses and get you in the headspace for rest—just like putting away your phone or dimming the lights. 
The basis is of course the lavender essential oil, created from the fragrant and beautiful lavender petals, this oil is a favorite in many households and loved for its tranquil floral scent. Now grown globally, it's native to the Mediterranean, the Arabian Peninsula, Russia, and Bulgaria, where ours is grown and sourced. Using the oil has long been used in people's nighttime routines, as research shows smelling lavender at bedtime can improve the quality of rest. 
But we grounded it with a warm and woody sandalwood. It's an ancient oil that's essential to various meditative rituals for many cultures, this warm and rich note grounds our mist. Traditionally, it is used to help users find a quiet headspace. Originally found in India, more sustainable varieties are now grown all over the world. Ours is from Australian sandalwood, which is considered to be the most sustainable source. 
But then we topped it off with an airy, herbal florals, roman chamomile and linden blossom. Our Roman chamomile is wild harvested in Europe, and the scent is delicate, herby, and gently sweet to ease the mind. Linden blossom is airy and light, reminiscent of a calm nighttime breeze; our oil is wild harvest in Bulgaria.  
Source link

#Pillow #Mist #Relaxing #Nighttime #Ritual #mbgs #dream #mist