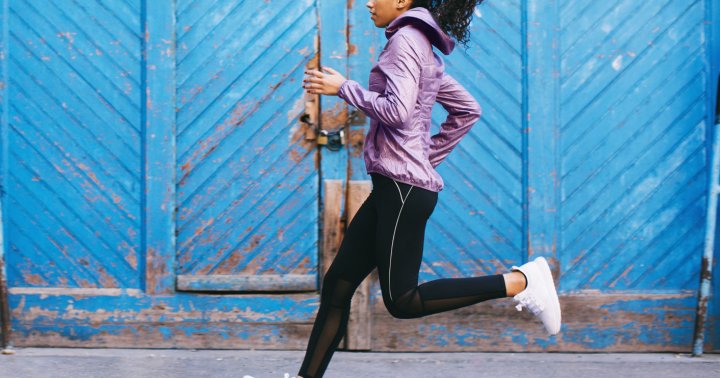 Fall and winter weather doesn't just mean colder temps, you may also be facing chilly rain or snow, too.
"Running in the rain in cold weather is a tough environmental condition, as your body can't maintain a higher body temperature when soaked through," says Lamar. In this case, a waterproof jacket is an essential addition to your gear list.
Mackey even thinks that cold rain is one of the most difficult weather conditions, since it's challenging for your body to stay warm. "I'd recommend avoiding longer out and back runs and do loops, so if you are getting cold while running, you can turn inside."
As for snowy weather, Lamar says it's important to be extra careful, since ice can be extremely dangerous to runners. "Choose clear paths and roads without snowbanks," she says, "as snow piles cover sidewalks and leave you no place to go should a car come." If snow is unavoidable, it may be worth investing in weatherproof running shoes with grippy lugs (those pieces of rubber on the sole).
For particularly cold conditions, remember: "When you're running, your body is supposed to naturally warm up so if you feel that not happening due to extreme weather conditions, I'd recommend taking your exercise inside," says Mackey.
Lamar agrees: if the weather is too extreme, take a day off of running. "Do an at-home workout, such as a strength or circuit workout. Get creative and recognize that temperatures will rise again but it is better to be inside than attempt unsafe running."
Source link

#Running #Tips #Safe #Cold #Weather #Coaches