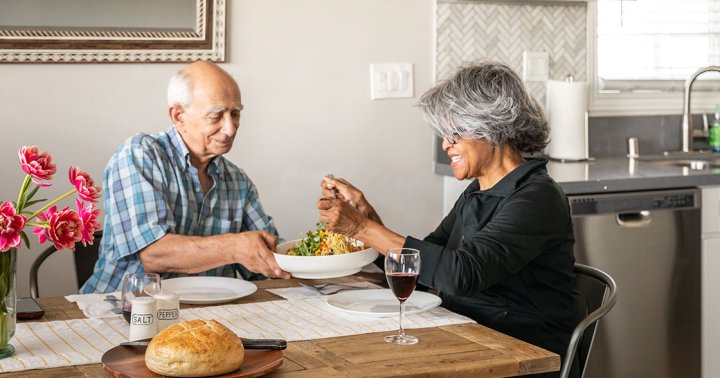 Magic Kitchen offers nutritionally balanced meals for older adults, plus several options for various dietary considerations like low-sodium, low-carb, low-fat, renal diet, and diabetic-friendly. When choosing your meals, you have two options: à la carte or complete meals. The à la carte option lets you mix and match main courses, soups, side dishes, and desserts, while the complete meals come ready-to-heat with one main course and one or two sides packaged together. 
The company also offers what it calls a flex subscription—you purchase three or six months of meals and then build your menus from there. The process itself is straightforward; you can filter by your dietary preferences and needs, as well as the meal type (breakfast, lunch/dinner, snacks, and desserts). You can also choose between single or multiple servings recipes. All meals are handmade by chefs in small batches and then flash-frozen to preserve quality and flavor. 
Example Meal:
–Baked Tilapia, Brown Rice, and Minted Carrots
-Beef & Broccoli over Noodles with Vegetables
Sustainability & Quality: While not fully organic, Magic Kitchen does use organic produce whenever possible and is committed to antibiotic-, pesticide-, and hormone-free ingredients. All packaging is environmentally friendly and while you can't recycle some things, like the coolers the meals ship in, they are reusable. Magic Kitchen recommends donating them to Meals on Wheels, if possible.
Price: From $12 per serving
Source link

#Meal #Delivery #Services #Seniors