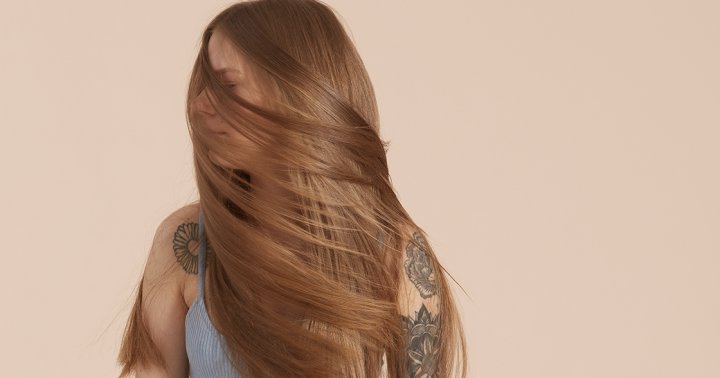 mbg Associate Beauty & Wellness Editor
By Jamie Schneider
mbg Associate Beauty & Wellness Editor
Jamie Schneider is the Associate Beauty & Wellness Editor at mindbodygreen, covering beauty and wellness. She has a B.A. in Organizational Studies and English from the University of Michigan, and her work has appeared in Coveteur, The Chill Times, and Wyld Skincare.
Image by Clique Images / Stocksy
Our editors have independently chosen the products listed on this page. If you purchase something mentioned in this article, we may
earn a small commission
.
May 26, 2022
If you find your hair shedding more than usual, you're not alone. Thinning happens for a number of reasons, and it's extremely common; that said, because there are so many potential causes, there are also myriad ways to naturally encourage regrowth—and one popular method is to invest in a hair growth serum. The market is chock-full of products that promise thick, full-bodied strands and a thriving scalp—but which ones are actually worth your hard-earned dollar? 
Here, we reveal the best hair growth serums to add to your routine. Whether you're looking to repair breakage, spot treat a sparse hairline, or just introduce some va-va-voom volume, you'll be sure to find a formula that meets your hair goals. 
How do hair growth serums work? 

Hair growth starts internally, with healthy hair follicles. So you may be wondering: How do topical serums work, anyway? Well, many serums include naturally-derived ingredients to help stimulate the scalp (rosemary oil, lavender oil, and the like), which, in turn, deliver vital nutrients and oxygen to the hair follicle. 
These serums also keep the hair you already have healthy and thriving, which is crucial when you're trying to encourage length. For example, many formulas contain antioxidants, which can help combat free radicals from UV rays or pollution. Finally, you'll find plenty of humectants and fatty acid-rich oils to moisturize the strands and keep them strong: "The hair on your head is probably the driest thing on the body, and if you are trying to grow it longer, you need to keep it moisturized," says hairstylist Anthony Dickey regarding faster hair growth. "If your texture is naturally drier, it is even more essential to keep hair hydrated. Dry hair turns to brittle hair and brittle hair breaks."
How we picked
Healthy hair growth starts with a healthy scalp, so we specifically looked for ingredients that nourish the skin.
We made sure to include formulas that suit several strand patterns and needs.
Some serums are meant for leave-in treatments, while others are best to use pre-shampoo. Some are lightweight and absorb quickly, while others thickly glaze the strands in moisture. You'll find plenty of options here.
We tested out products firsthand to see what worked and what didn't. When this wasn't possible, our editors utilized verified customer experiences.
mbg's picks for the best hair growth serums of 2022
Pros
Easy-to-use dropper
Absorbs easily
Considerations: Vegan, Cruelty-free, Leave-in treatment, Lightweight
This serum simply nourishes the scalp and hair with apple stem cells, which are known for their rejuvenating and antioxidant abilities; bamboo and pea extract, which help protect the strands against free radicals; and aloe vera, a star hydrator. The application itself feels like a splash of moisture, especially after a good, long rinse. 
Pros
Highly effective for precise areas
Considerations: Vegan, Cruelty-free, Leave-in treatment, Lightweight
If you're looking to "spot treat" with a hair growth serum—say, you have a sparser hairline you'd like to fill—this high-performing number is your best bet. With nicotiana benthamiana for its anti-inflammatory properties, turmeric to calm and nourish the skin, and red clover and mung bean extracts to neutralize free radicals, it's the perfect non-greasy number to nourish fragile strands. 
Pros
Increases shine
Great for a scalp massage
Cons
Some prefer a subtler smell
Considerations: Vegan, Cruelty-free, Leave-in treatment, Wash-out treatment
This reviewer says it best: "I really feel like I'm treating my senses when using this for my hair—the jasmine scent is romantic and beautiful." Along with the fragrant jasmine, you'll find sunflower oil to add moisture and shine, along with amla, a classic Ayurvedic ingredient with powerful antioxidant properties.
Considerations: Vegan, Cruelty-free, Sensitive skin-safe, Leave-in treatment
You can read all about castor oil for hair here, but the fatty acid-rich ingredient comes with a load of healthy hair benefits. The medium-weight oil is brimming with vitamin E, unsaturated fatty acids, minerals, and other antioxidants to help protect the strands from physical damage and environmental aggressors. Grab a 100% organic, naturally cold-pressed option, like Briogeo's, to wrap your tresses in a blanket of moisture. 
Cons
Essential oils can be irritating
Considerations: Vegan, Cruelty-free, Leave-in treatment, Wash-out treatment
Ever seen a hair oil so good, you thought about slathering it all over? This do-it-all serum aims to please, with a cocktail of nourishing plant and essential oils to calm and moisturize your skin and hair. It's simply a must-grab for a scalp-slash-face massage—who doesn't love a streamlined routine? 
Pros
Rejuvenates the scalp with a clean, fresh scent
Cons
Some reviewers say it feels sticky
Considerations: Vegan, Cruelty-free, Leave-in treatment, Lightweight
This antioxidant-rich formula is like a tall drink of water for your scalp. Arctic root, Siberian Ginseng, chaga mushroom, and red clover extracts help protect and soothe the skin up top, while peptides help support collagen production. It's super lightweight and provides a cooling experience upon application. Plus, the lightweight formula easily soaks into your strands without leaving a greasy feel. 
Pros
Big size
Good for scalp and split ends
Considerations: Vegan, Cruelty-free, Leave-in treatment
Your hair bonds can become broken over time—by heat styling, chemical processing, and other physical stressors (harsh brushing, too-tight hairstyles, and the like), which is where protein-rich repairing serums come into play: These help reconstruct those bonds, thus leading to stronger, smoother, and more defined strands. Aveda's strengthening serum contains proprietary bond-building plant molecules, along with organic avocado, green tea, and sacha inchi, and Nangai oils to deeply moisturize and further protect the strands. 
Pros
Great for thick and textured hair
Considerations: Vegan, Cruelty-free, Leave-in treatment
Moringa oil, argan oil, castor oil, and aloe vera make this simple scalp serum an absolute dream. Not to mention, the lavender aroma sets you up for a relaxing night's sleep—it also helps stimulate the scalp and has even been linked to hair growth in animal studies.
Pros
Won't leave greasy residue
Cons
Those with dense hair may need to use a lot
Considerations: Vegan, Cruelty-free, Leave-in treatment, Wash-out treatment, Lightweight
Unless your strands tend to drink in product, chances are you'll want a lightweight leave-in serum that won't clog hair follicles or cause buildup. This Innersense formula leaves an undetectable trace, as it features dry oils (jojoba and safflower seed) that immediately sink into the strands.
Pros
Rosemary has been clinically studied for hair growth
Cons
Contains essential oils, which can be irritating
Considerations: Vegan, Cruelty-free, Leave-in treatment, Lightweight
Healthy hair growth starts with a healthy, thriving scalp. Look no further than this hydrating formula, with apple stem cells, hydrolyzed lupine protein, and glycerin to soothe and protect the skin barrier. It also contains rosemary—which boasts a number of hair growth benefits—and rosewater, which has a mildly astringent nature and can help reduce extra oil in between washes. 
Pros
Neutralizes frizz
Adds noticeable shine
Considerations: Vegan, Cruelty-free, Wash-out treatment
This wash-out serum is jam-packed with hair-healthy, fatty acid-rich oils: meadowfoam seed oil, chia seed oil, acai fruit oil, and rapeseed oil, to name a select few. It's best used as a pre-shampoo product, those heavyweight oils might weigh down the strands (unless you're gunning for a chic, slicked-back look; then by all means, marinate away). But if your strands are especially thirsty, it can also work as an overnight mask. 
Cons
Contains denatured alcohol, which can be drying
Considerations: Vegan, Cruelty-free, Leave-in treatment, Lightweight
This leave-in tonic is beloved for plumping the hair fibers and increasing volume, so you can rock a thick, full-bodied 'do. It contains a "hair energy complex" to improve the density of the hair shaft, along with mung bean and clover extracts to soothe and protect the scalp. 
Pros
Won't weigh down the strands
Cons
ACV can be irritating for some
Considerations: Vegan, Cruelty-free, Leave-in treatment, Lightweight
Scalp buildup can hinder your hair growth goals, which is why this daily serum includes apple cider vinegar to exfoliate and unclog hair follicles. Aside from the star ingredient, you'll find peptides to stimulate collagen production, organic maca root for antioxidant properties, hyaluronic acid and aloe vera for hydration, and lavender extract to further stimulate the scalp. Not to mention, the formula is super lightweight and absorbs almost instantly. 
Other ways to encourage hair growth.

As you can tell by now, hair growth is a complex topic that may require multiple angles. So in addition to snagging one of the serums above, you might fare well with these extra methods:  
1.
Scalp massages.
"Beautiful, strong hair depends on good blood circulation, proper nutrition, and a healthy and supple scalp," says board-certified dermatologist Raechele Cochran Gathers, M.D., hair care expert and founder of MDHairMixtress, about scalp massages. In fact, regular massages have been clinically shown to promote hair growth. That's because they help release tension and encourage blood flow to the area—which, in turn, delivers oxygen and hair-healthy nutrients to the follicles. 
While you can always give yourself a tension-relieving scalp massage with nothing but your fingertips, a scalp massager tool can help you address those hard-to-reach places, like the very back of the head or behind the ears. This Brush from Hairstory is a solid option to use in and out of the shower, or find mbg's full list of favorite scalp massagers here. 
2.
Collagen & biotin supplements. 
Ready for a little hair anatomy lesson? Hair is made of the protein keratin, which has an amino acid profile including cysteine, serine, glutamic acid, glycine, and proline. Both collagen and biotin supplements have high amounts of many of these amino acids, meaning the supplements provide the body with the building blocks of hair.* Research backs this up, too, as studies show taking these supplements can support hair growth.*
Check out our list of collagen and biotin supplements, or if you're looking for a one-stop shop that has 'em both, go ahead and grab mbg's beauty & gut collagen+. In addition to 17.7 grams of grass-fed collagen peptides and 500 micrograms of biotin, it has vitamins C and E for enhanced collagen production and antioxidant support, hyaluronic acid for skin hydration, and curcumin from turmeric extract and sulforaphane from broccoli seed extract for supporting detoxification and combating oxidative stress.*
3.
Clarifying scrubs. 
Too much scalp buildup can suffocate the follicle root, which is literally the source of hair growth. That's why many experts tout scalp-stimulating treatments for speedier hair growth; a clean, happy scalp leads to full, lush strands. 
If you think you might be dealing with buildup, try folding in a scalp scrub into your routine. With these, you can choose physical exfoliators, with granules (like sugar and salt) to manually remove buildup, or chemical formulas, with naturally exfoliating acids and enzymes to dissolve dead skin and lift up debris.
mbg review process. 

At mbg, high standards are earned and there are no shortcuts. Our beauty editors stay up to date on the latest ingredient research and innovation. It's a dynamic, continuously evolving space, and it's important we look into the science so we can make informed choices about which formulas earn our stamp of approval (figuratively speaking).
Our high standards also come from testing products—many, many products. Our editors and writers rigorously test and research the products featured in our roundups to offer you the best, most informed recommendations. When we write reviews, you can trust we spend quality time with the formulas: We don't simply rave about products we've slathered on the back of our hand. We endorse products we've tried and loved. 
Learn more about our testing process and clean beauty standards here. 
The takeaway.

Even if hair growth isn't your main concern right now, these serums can all help moisturize and nurture the scalp—which anyone can benefit from, no matter your length goals. Again, helping your hair grow faster is a tricky feat; make sure to keep all of these tips in mind before embarking on your hair growth journey. 
If you are pregnant, breastfeeding, or taking medications, consult with your doctor before starting a supplement routine. It is always optimal to consult with a health care provider when considering what supplements are right for you.
Source link

#Hair #Growth #Serums #Work